The early years of life from 0 to 6 years old are an important time for a child's comprehensive development in both personality, intelligence, and physical well-being. Therefore, educating children at an early age is very much concerned with parents. Nowadays, there are different educating methods that are widely shared and used by parents all around the world. If you are a new parent, you may want to discover an educating method that can help your baby's development. Let us introduce you to the Montessori education method – A method that has been chosen by many parents to educate their children.
What is the Montessori education Method?
This is a pedagogy that educates children based on the research and experience of Italian physician and educator Maria Montessori (1870–1952). This is one of the methods that educate children through visual aids. Montessori education is student-led and self-paced. But guided, assessed, and enriched by caring teachers, the leadership of their peers, and a nurturing environment.
Advantages of the Montessori method
Unlike traditional education, the Montessori education method especially emphasizes the role of activeness, independence, potential, and building children's personality. Your baby is free to explore and discover the world around them at will, under the teacher's guidance. They will learn how to take care of themselves by doing the smallest things such as washing their hands, changing clothes, or arranging their stuff instead of asking their parents or adults to help.
In a Montessori class, your baby will discover subjects and areas such as Mathematics, Language, Life Practice, and Music in the most natural way. Their learning process will be supported by different tools and visual aids. Therefore, this method will help them develop their STEM skills as well.
Your baby will be able to follow their curiosity at their own pace, taking the time they need to fully understand each concept and meet individualized learning goals.  The result that this method will bring to your children is they will grow up to and become confident, enthusiastic, and self-directed learners and citizens, accountable to both themselves and their community. They will have the ability to think critically, work collaboratively, and act boldly with integrity.
Your Child Will not Be Imposed
The Montessori method respects the freedom of children as they choose what they will study. In Montessori classes, your baby will be free to choose their favorite activities according to the pace of their development. This method prioritizes the development of their focusing ability, eagerness to learn, and memorizing skills. In some cases, parents or teachers impose their thoughts and actions on their children. This is completely against Montessori principles as it will make children lose the ability to think inherently. In the Montessori method, children should discover new things naturally in the way they want. Therefore, it will help them learn to be independent and stimulate their intellect.
In the Montessori classes, learning always comes with practice
Many research shows that the best way to help children make good use of what they have learned is to get them involved in practical activities. Your children tend to imitate activities that they observe themselves. In the Montessori classes, your baby will be shown how to carry out tasks. Therefore, your child can have their own ways to do these activities. Furthermore, they will experience different daily life skills like changing clothes, keep while doing activities.  In addition, your baby will learn good habits in life such as waiting for their turn, waiting for the activities they want to do, making constructive comments, and listening to others. These skills will help you become more confident, proactive, and be ready for their future life.
No Reward Or Punishment Exists
Unlike the traditional method, the Montessori education method does not have rewards and punishment. You will never find a mark in your child notebooks, If your child is doing something wrong, they will not have punishments. Instead, they will be shown how to do the right thing and correct their mistakes. When they do something good, your baby will be encouraged and acknowledged for their efforts instead of receiving rewards or get praise. The main focus of this method is helping the child to be aware of what they are doing wrong, not how serious the problems are.
Teachers are your baby's guide
In most Montessori classes a trained teacher and an assistant will take care of a group of 30 students. The focus is always on one-to-one support. The teachers are not going to give your child homework or teach them subjects. They will take the role of guiding your baby on their own exploration. As mentioned, teachers in Montessori will not give marks to the students. However, they will observe the children and identify a child's interests so they can guide them appropriately.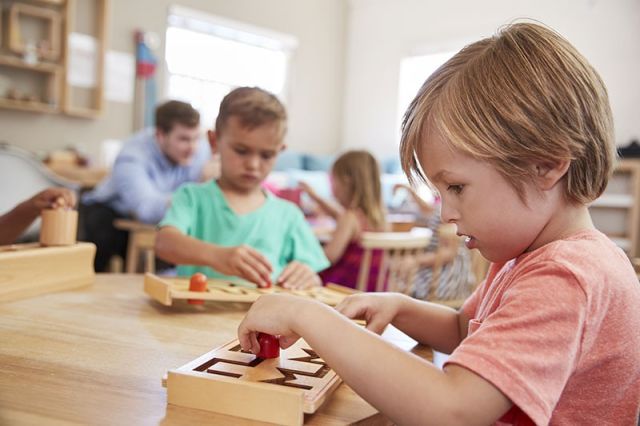 There you go, now you have the things you should know about the Montessori education method. If you are considering this method for your baby, we recommend you connect to The American Montessori Society for the best advice. Do you have other education methods that can boost children's development? Let us know in the comments