Father's day is coming really close and it's time for you to celebrate the dad with new gifts. There's no doubt about it, the best dad deserves the very best gift, but finding the best and suitable gifts is never been an easy task. The choices are overwhelming. You may wonder if you should choose traditional hand-made gifts or modern technology ones. So to help you make your decision, here are the 10 best father's day gifts in 2020.

1. Personalized Father's Day Cards
(Cost you: about $0 – $1)

Cards are one of the most simple, affordable but meaningful gifts that you can give to the dad or grandpa on Father's Day.  A colorful card with a loving or funny message surely will make the dads happy. You can help the kids design their own cards with pencils, papers, and color. There are also various websites like Fotojet or Moopig that can provide you personalized and printable cards for this special day

2. Customized Father's Day Mugs
(Cost you: Under $20)

A customized mug is an inexpensive but impactful gift for father's day. You can find personalized mugs on various markets or websites like Etsy, Amazon, or Zazzle. You can choose the materials and sizes of the mugs that you want. There are also thousands of messages that you can add to the mugs. They can be funny, lovely, or sarcastic. No matter what the message is, the dads will love it. And most importantly, they will see the message every day when they start the morning with a cup of tea or coffee.

3. Personalized Father's Day Photo Keyring
(Cost you: Under $30)
A true dad will never leave his keys. So why don't you add something memorable as a father's day gift to his keyring that he can carry and remember all the time? You can add a small family picture, a reminder, or quotes. Everything you have to do is print what you want, put it in a leather case, and stick the case to the dad's keyrings. You can even get him a custom keyring to make it a more fancy gift.

4. Foodie Dice® No. 1 Seasonal Dinners Inspiration
(Cost you: $24.00)
If Dad loves cooking and being creative in the kitchen, this dice set can inspire his next dish. This dice set is a fun new way to shake up dad's cooking routine, Foodie Dice provides inspiration for creating simple, seasonal meals. Simply select the five primary dice, add a seasonal veggie dice, and roll. Then shop, cook, and eat! Over 186,000 possible results that surely will inspire his cooking spirit.

5. Waterproof Bluetooth Speakers
(Cost you: $42.99)

Summer has come and it is time for the pool parties! Dad will always want to get his favorite song to the pool. Therefore, let him forget pool-side tunes and give him the gift of grooving right in the water. As he's taking a dip, the speakers will float and play his favorite tunes for up to three hours. This device connects via Bluetooth to iPods, iPhones, and Android phones. It also doubles as a speakerphone so he'll never miss a call.

6. Dad Jokes: Terribly Good Dad Jokes for
(Cost you: $7.5)
Dad must always have their own dad jokes. But if your Dad has been re-telling the same jokes for the last – well, basically your entire life, it's time for you to take action. Give him this book for some new material for Father's Day. This collection contains well-organized jokes for dads on different topics so they can find the perfect rib-tickler (groaner) for every occasion.

7. Edge Light Clock
(Cost you: $49.00)
A clock and a lamb in one is a fair deal! This is an ideal gift for Dad who likes to read before going to sleep. This light clock will help him see in the dark without keeping Mom awake. Once he finishes reading, he can simply flip it over to the clock side.

8. Digital Tape Measure
(Cost you: $29.59)
How many times has Dad takes out his toolbox to measure something? Definitely many, many times. Therefore, this is going to be a great  Father's Day gift for Dad. This digital tape measure combines two of his favorite things: tools and tech.  It does all the work for him and it will remember the lastest latest measurements.

9. Boost Up Wireless Charging Pad 5W
(Cost you: $28.97)
Dads love technology, especially mobile devices. However, maintaining the device's battery may be troublesome sometimes. Plugging in phones to charge up? That's an old thing. With this pad, dad can simply drop any of his iPhone, Samsung, LG, Google, or Sony device atop this pad and watch that tiny green light switch on. It's super convenient. 

10. Wooden Caddy
(Cost you: $38.25)
This personalized caddy will help dad with tidying up and organization his stuff including glasses, watch, and phones. You will never have to see him going around and ask everyone "have you seen my glasses?".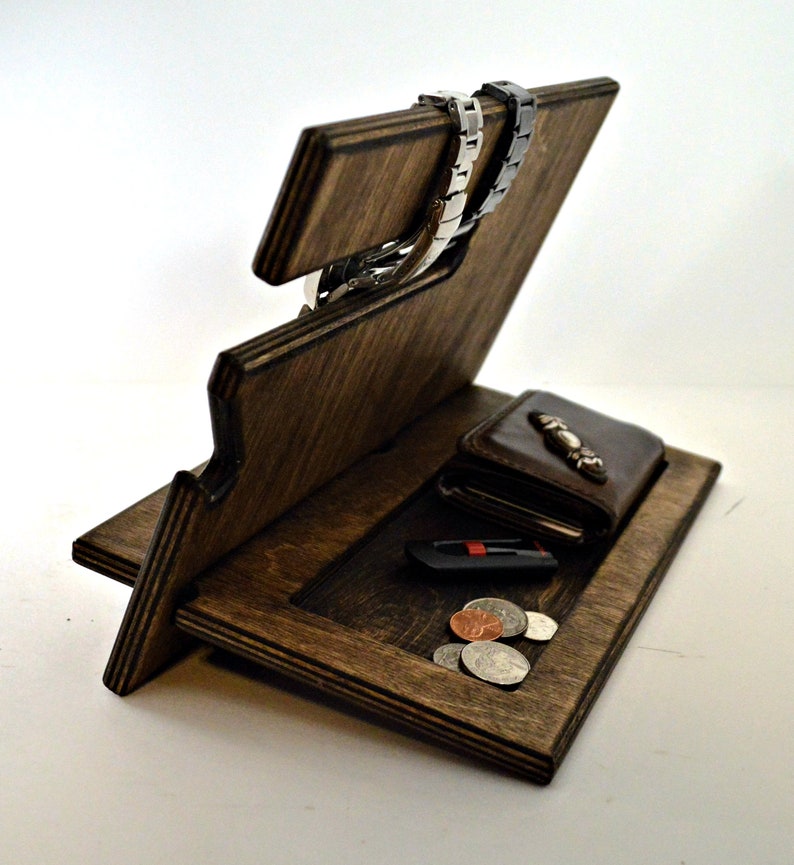 Here you go, now you have our 10 best father's day gifts. We hope that our article will help you make your choice and have a beautiful father's day.